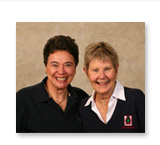 We started "T & T" in the spring of 1992 because we wanted to do more personalized real estate and because we work exceptionally well together. There are only the two of us – no large conglomerate and no decisions to be made by committee. Our office is located in a modest 1910 Victorian house on the Oakland/Berkeley border.
Our sales gallery is a sampling of some of the homes that we've sold over the years.
Pat Talbert began working at Berkeley Investment Realty as a secretary/manager in 1967 and has been continuously working in residential real estate ever since. Anet Tarpoff received her real estate license in 1990.
We work hard, and we take every chance to laugh, to enjoy our listings and our clients.
We don't take on many buyers or sellers at once – 10 to 12 each year is all. This gives us the time to become deeply involved with each project. We never represent both buyer and seller in the same sale. (Many agents do, and we think this is a mistake.)
Both buying and selling are big projects, not to be idly approached. Each takes time, concentration and decisions. As large sums of money are involved, not to mention disruption of routine plus replacement of hearth and bed, emotions often run high.
We concentrate first on establishing what our client's goals are. Sometimes people know what they want and where they want to go, but frequently, exploration is needed before the destination can be envisioned.
We always work together, both of us there for every discussion, showing, inspection and closing, although we specialize in different aspects of each transaction.
Consulting Services
Sometimes, when we have time available, we do hourly consulting, most often with people who are buying directly (a tenant buying from a landlord, for instance), occasionally in a situation where no sale is involved (an owner wanting advice on whether to add on a bedroom and bath, for example). We do not act as agents when we are consultants. Instead, we educate our clients on how to handle things on their own. We tell what we know, offer our opinions, but if a contract must be written or negotiations made, it is usually an attorney who is hired to handle them.
We love our job. We love the great people we meet and the houses we see. Most of all, we love doing our job thoroughly and well. We have quite a few satisfied clients (see/click Reviews). Please ask for our list of references, and then we hope, you will contact them.