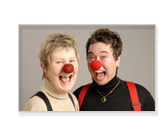 The T & T column has been running for the past 23+ years. We started in The Montclarion and now appear many Fridays in the real estate section of The Montclarion, The Berkeley Voice, The (El Cerrito) Journal, The Piedmonter, and, most weeks, in The Alameda Journal.
These are our stories, our true experiences in real estate.
Read our current column.
Peruse our archives.
Many of the 700 plus columns written so far are true stories about our clients, their houses, what made them buy or sell, how they did it, and – as often as possible – what funny things happened along the way.
We've also included how-to stuff such as pricing and staging a house, washing windows, making a simple garden that buyers will love, and learning how to see past ugly surfaces. Also, stories of home life: fireplace comforts, clutter we collect, water in the basement. Some subjects are aimed at sellers, some at buyers, and others for anyone who finds them interesting or just amusing.
Our idea was to demystify real estate, to tell what agents really do – not just drive people around and open doors for them – but to help, and plan, and coordinate. Good agents make things happen in good ways, and we involve ourselves in solutions for the minutiae of our clients' lives – from ants in the refrigerator to cross country moves, from clearing a house lived in for fifty years to losing keys in the toilet.